10 Online Mobile Security Tips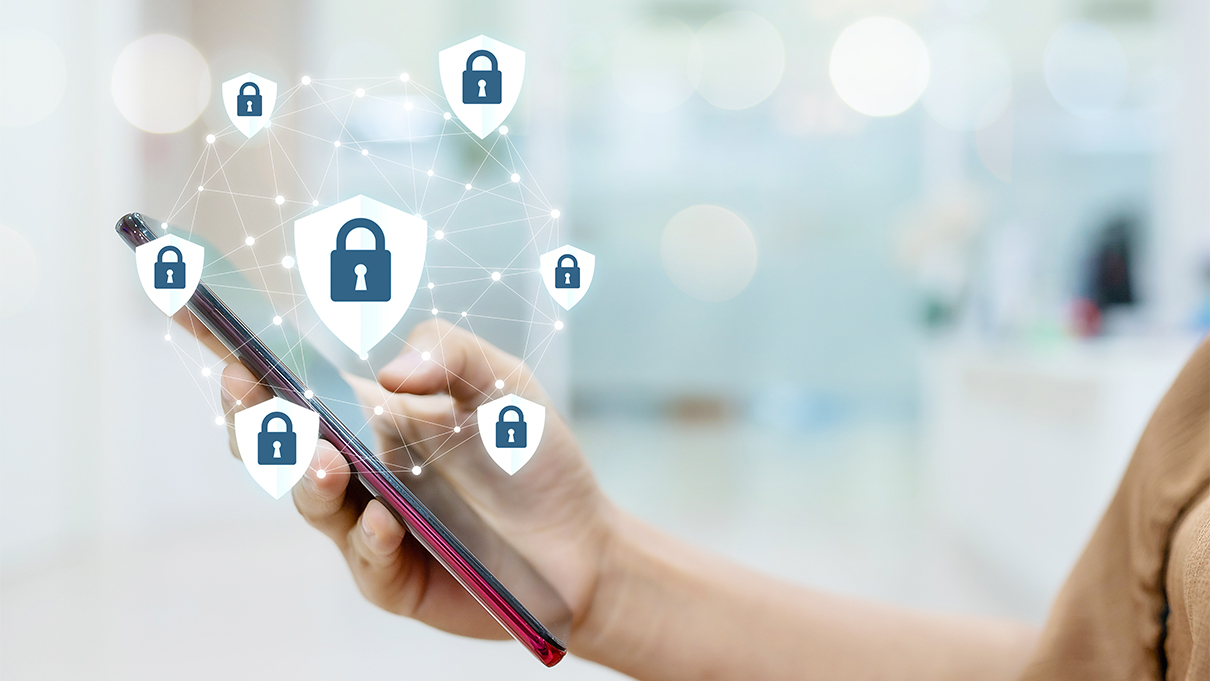 Nov 27, 2018

As your options for purchasing and banking online grow, so does the need to safeguard your security and privacy while using the internet on your mobile device. Online security protects you from fraudulent intrusion as well as the careless release of your sensitive data.

Sometimes, mobile security is as simple as a frequent review of your bank accounts to ensure that nothing unauthorized has occurred. But there are other things you can do to stay safe in an online environment.

Here are 10 online mobile security tips to help protect your money and your sensitive data.
1. Use strong passwords
A strong password is the first step in mobile security. This is something that can't be easily guessed by either another human or a computer program. The strongest password should have at least eight characters and include letters, numbers, and symbols. Make sure you are using different passwords for your various online accounts.
2. Avoid vulnerable numbers
It's never a good idea to use identifying numbers as part of your password, personal identification number (PIN), or user ID. This includes parts of your Social Security number, birth date, age, or those of loved ones. This is information that someone else could find and use to access your account.
3. Watch for strange emails
Your bank will never send you emails requesting that you send them back sensitive data such as your account information or login details. If you receive emails like this, you can call the bank to verify their legitimacy.
4. Be wary of email attachments
Avoid clicking on email attachments unless you are 100% sure that you know the sender of the message. Attachments can launch virus programs on your mobile device and compromise your sensitive information. Even if a message appears to come from a friend or familiar company, it's always better to use caution with attachments.
5. Watch your online sharing
The more information about yourself you disclose online, the more vulnerable you can become to fraud. Identity thieves are looking for accounts that have plenty of data, so it's a good idea to check your social network privacy settings and curtail your sharing.
6. Pause before you click
When shopping and banking online, you can avoid scams by only using sites that have strong security in place. Look for websites that have an "https" at the beginning instead of just "http." That extra "s" indicates that they have put extra security measures in place.
7. Secure your smartphone
If you shop, access mobile banking, and have any other sensitive data on your smartphone, keep it secure. You can do this by turning on the screen lock function of your phone. After a set period of inactivity, your screen will lock and the phone will ask for a passcode or your fingerprint to be used again.
8. Don't store sensitive data on your phone
Certain sensitive data should not be stored on a mobile device. This includes bank account numbers, PINs, Social Security numbers, and credit card numbers. If you use a mobile banking app, your bank will not display this data on the app.
9. Use caution with apps
Speaking of apps, it's a good idea to think twice before downloading new ones. Carefully read the app's privacy policy so that you understand what personal data the company can access, use, and even sell to others.
10. Update your technology
Mobile devices run on an operating system (generally iOS or Android), and these systems often have security patches in each version. You should not only keep your operating system updated but also consider an additional mobile antivirus program.
City Bank Cares About Your Personal Information
By following these mobile security tips, you can help prevent your sensitive information from getting into the wrong hands. If you suspect that your banking data has been compromised, contact us immediately.

At City Bank, we take your privacy and security seriously. We use a layered approach to help protect your identity and financial accounts. If you have any concerns about mobile security, we're here to answer your questions.