A MORE CONVENIENT WAY TO PAY
City Bank debit cards are a great way to make your banking safe, convenient and hassle-free.
A MORE CONVENIENT WAY TO PAY
City Bank debit cards are a great way to make your banking safe, convenient and hassle-free.
The first card you reach for. The last you'll ever need.
The City Bank MasterCard® Debit Card is very similar to a credit card in that it can be used to make purchases at millions of locations worldwide and access cash at ATMs. The most important difference is that your debit purchase amount is immediately deducted from your checking account.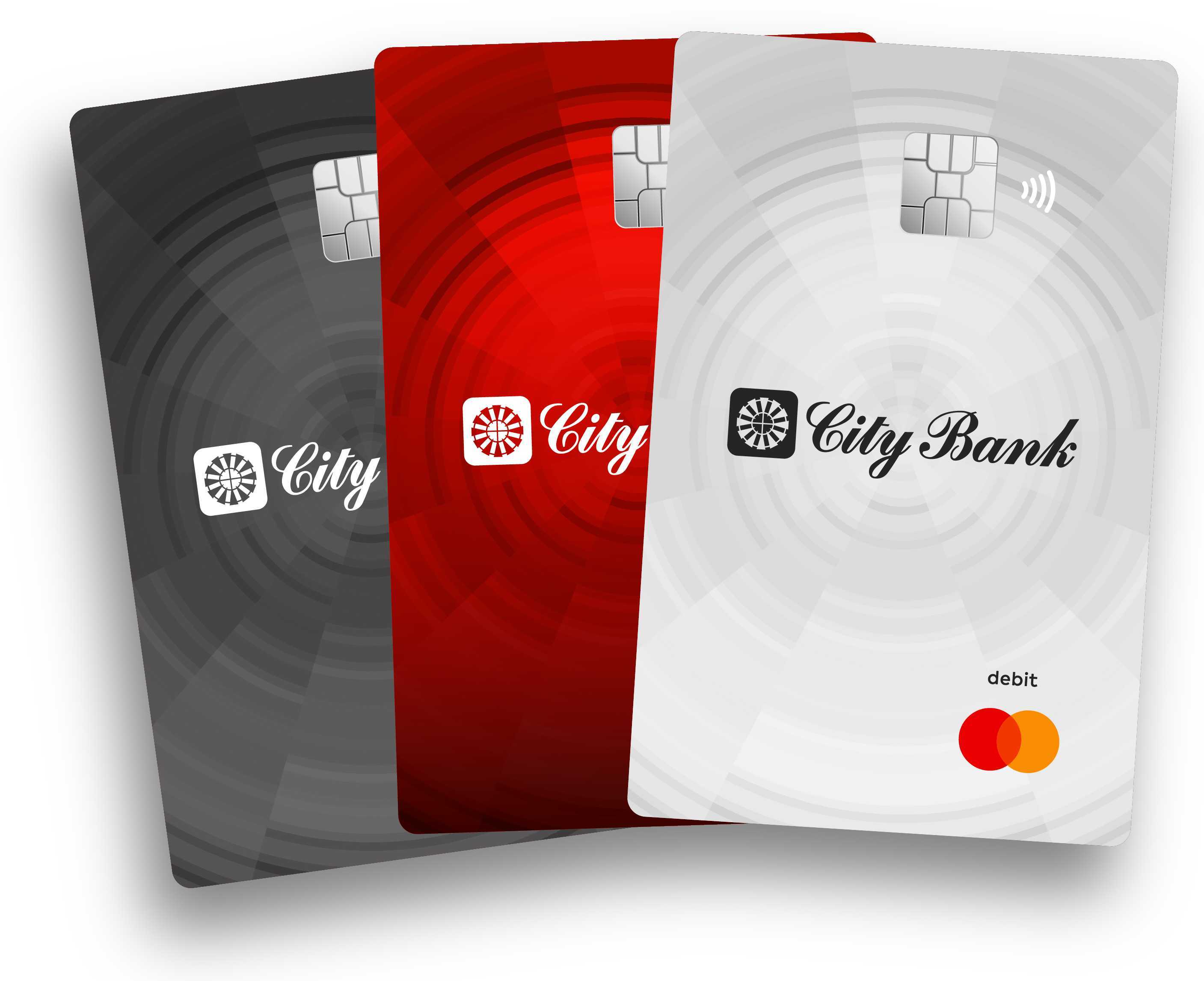 Tap and Pay
City Bank MasterCard® Debit Cards are now contactless. Simply tap your debit card against a card reader to pay. This option allows you to skip inserting or swiping your card. Look for the contactless symbol at contactless-enabled merchant terminals to use this feature.
Spend with confidence, because your account is continuously monitored for suspicious activity. In the event of unauthorized purchases, you will be protected by the MasterCard guarantee. Also, with the City Bank App, you have the ability to turn your debit card on and off at your convenience.
The biggest advantage of the City Bank MasterCard Debit Card is convenience. Not only do you not have to carry cash, you don't run up interest charges as with a credit card. Use your debit card to make everyday purchases in stores or online.
Your City Bank MasterCard Debit Card doubles as an ATM card. Use your card after hours to make withdrawals and transfer funds. City Bank ATM transactions are free of charge to all City Bank customers.
Instant Issue Debit Cards
Need a new debit card but don't want to wait for one to arrive in the mail? Find a City Bank location near you and come in to have a card instantly issued and walk out with it ready to use.
Standard Features and Benefits
City Bank MasterCard Debit Cards have some added benefits worth noting. With enhanced features and benefits, customers can turn good deals into great ones by adding value to purchases large and small with convenience, protection and more.
To take advantage of any of these features or file a claim, simply call 1-800-MASTERCARD.
Extended Warranty Insurance*
Doubles the time period and duplicates the coverage of the original manufacturer's or U.S. store brand warranty for a maximum of one year.
MasterCard Global ServiceTM
Receive around-the-clock customer service assistance with lost and stolen card reporting, emergency card replacement, emergency cash advance, as well as assistance with locating ATMs and help with card-related questions.
MasterCard Identity Theft Alerts
Identity Theft Alerts is a FREE service offered only by MasterCard. When you register, you will be alerted if the service detects that your personal information is being bought or sold online. Click here to register or call 1-800-MasterCard to learn more about this benefit.
Satisfaction Guarantee*
Provides up to $250 per product, if you become dissatisfied with the product within 60 days of purchase and the merchant will not accept a return.
Zero Liability*
You pay only for the purchases you have authorized on your MasterCard, and you won't be held liable in the event of an unauthorized purchase. This coverage extends to purchases made in stores, over the phone or online.
Identity Theft Resolution Services*
Identity Theft Resolution Services can help you resolve the situation promptly if your identity gets stolen. You get an ID Theft Affidavit and an ID Theft Resolution Kit as well as access to a number of services, including credit bureau notifications. You also have access to 24-hour specialists who will lock out all of your reported cards and documents and, if needed, can even coordinate a conference call with your card issuer. Call 1-800-MasterCard to learn more.
Take Control with the City Bank Mobile App
The debit card management feature in the City Bank Mobile App offers an exclusive level of protection by helping customers prevent fraud by remotely disabling their debit card if it has been compromised, lost, or stolen—plus the ability to raise limits. Learn more.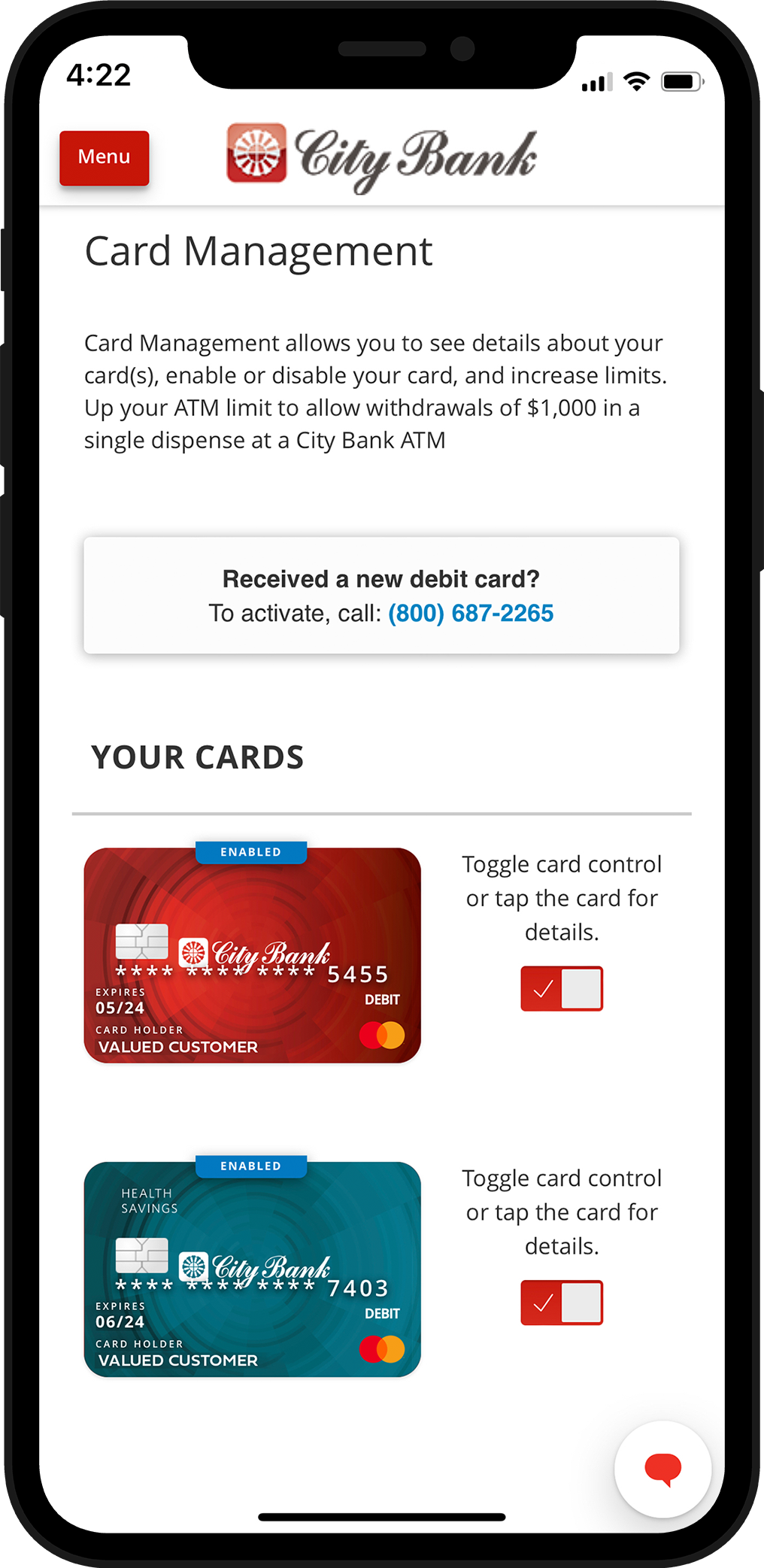 Plays nice with your favorite digital wallet.
City Bank debit cards, together with a digital wallet, let you make purchases at participating merchants, in app, and online using your mobile device. It's a secure form of payment that makes purchases easier than ever.


Traveling with your card? Let us know!
Spend with confidence while traveling. Certain fraud prevention measures that we've put in place can detect and cause debit cards to decline when traveling out of state or visiting a foreign country. This is put in place to help protect customers, but it can be prevented by simply calling City Bank so that we can make the appropriate adjustments to your account to allow the transactions to be processed.
Get texts when City Bank's Fraud Center detects irregular or possible fraudulent activity
There's a new layer of communication to keep you informed when it comes to irregular or potentially fraudulent activity on your debit card. We now text customers in the event there is any irregular or fraudulent activity as we take precautions on your behalf to temporarily deactivate your City Bank debit card
How it works
You will receive a text message that will allow you to confirm or deny fraud with a simple "YES" or "NO" reply. If the activity is valid, you will be asked to contact City Bank for further assistance.
If you fail to respond within 5 minutes after the text notification has been delivered, an automated call from our Fraud Center will contact you asking you to confirm or deny any fraud. However, texts generated from a failed transaction due to restrictions will not be followed by phone call.
Additionally, this service is not associated with BNK-N-GO, our text-based mobile banking product.
It's the latest solution to help you better manage your finances and keep you in the know as we monitor debit card activity in the fight against fraud. Remember that we will never ask for personal identifiable information through text.
Get your Debit Card today
To get your debit card, contact a City Bank representative by calling 800-OUR-BANK or visit any of our convenient locations. Want a debit card but don't have an account? Explore our personal checking options.
MasterCard® is a registered trademark of MasterCard International Incorporated. *The descriptions of the listed benefits and enhancements are summaries only. Certain terms, conditions and exclusions apply. The information is provided on "AS IS" basis and for your informational purposes. It is not a specific recommendation for any particular action or investment and should not be relied upon in whole or in part as the basis for decision making or other purposes.